Quei pedofili nemici di Trump
Non avrei avuto alcuna difficoltà se mi fosse capitato di doverne registrare la presenza, a torso nudo, con ampi tatuaggi e quella coreografica testa di bisonte, con tanto di coppia di corna, calzata in capo, chessò… in fila per poter accedere al megamagazzino Esselunga di via Piave, in epoca di prezzi iperscontati. A trovarsi, magari, a dover smaniare per poter acquisire e conquistare  un carrello da riempire con la " spesa convenienza".
"Sciamano di QAnon"
Anche quello, almeno a Genova, gesto clamoroso di disobbedienza civile, di fronte al tanto strombazzato strapotere delle Coop, e… compagni cantanti. Invece, come racconta " Il Riformista: "Tutto il mondo l'ha visto durante le proteste a Washington entrare a Capitol Hill a torso nudo, con un folcloristico copricapo con corna e pelliccia di bisonte, amuleti, tatuaggi e volto dipinto con i colori della bandiera americana. Jake Angeli, 32 anni, italoamericano, è diventato un po' il volto dei disordini aizzati da Trump contro la ratifica della vittoria di Joe Biden. Meglio conosciuto come lo "Sciamano di QAnon", è già stato protagonista di diverse proteste contro "l'elezione rubata", è seguace delle teorie complottiste secondo cui il mondo è governato da una rete segreta di pedofili nemici di Trump e il 6 gennaio con bandiera e megafono alla mano ha guidato il manipolo di manifestanti per 'espugnare' la fortezza di Capitol Hill.
Angeli, che vive a Phoenix, è molto noto negli ambienti di ultradestra. Ha risposto alla chiamata di Trump che ha radunato a Washington i suoi per protestare. Era tra i circa tremila che hanno partecipato alla marcia "Save America". Una folla composita e varia tipica dei comizi di Trump. C'erano i Proud Boys, i Boogaloo, i complottisti di QAnon come lo 'Sciamano', famiglie, giovani e donne come quelle di "Women for America First": un'associazione creata in risposta all'impeachment di Trump poi contro le mascherine".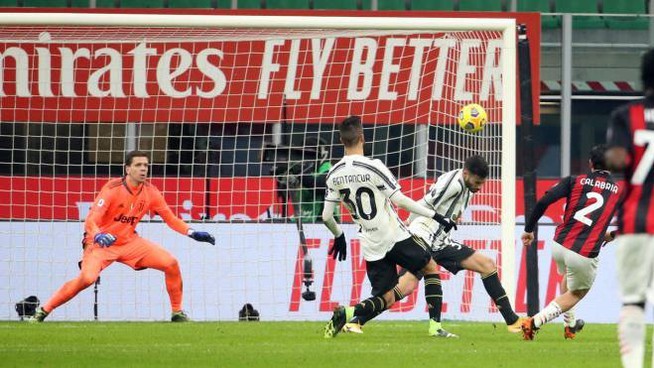 Chiesa, Diavoli e Angeli
Invece è venuto fuori dal nulla a intorbidire un classico pomeriggio dell'epifania. Mentre la Samp regolava l'Inter di Conte (Antonio, non il capo del Governo) e ci si apprestava a vedere se Chiesa avrebbe avuto ragione del Diavolo rossonero, nei secoli dei secoli. Come dire che il nostro sciamano che di nome fa Jacke – in italiano Giacomo, che come santo è il protettore di pellegrini, viandanti, cavalieri e soldati – e di cognome Angeli, palesemente italoamericano, nonostante quella messa in scena che poteva far pensare ai nativi, in qualche modo ha preteso di distoglierci dai lenti ritmi tutti italiani del mercoledì della Befana – quell'Epifania che tutte le feste di porta via – ai tempi delle zone rosse e del Covid.
Sussulti nelle case, sui social e davanti la tv. Tutti ad inseguire che cosa stesse accadendo dall'altra parte del mondo e se il Tycoon Donald Trump avesse sorvolato l'edificio di Washington a cavallo di una scopa e con il biondo ciuffo sconvolto dal vento per riversare sui senatori pronti ad accantonarlo e metterlo da parte tutto il carbone del mondo.
Tutto vero, purtroppo, e non il classico kolossal post natalizio andato in scena a reti unificate.
Lacrime di coccodrillo e polemiche
Osserva Davide Piacenza in un articolo su "wired" dal titolo "L'attacco al Campidoglio non è un incidente: è la realizzazione del piano di Trump": "Era tutto chiaro, insomma, e se è condivisibile pensare che abbiamo assistito ad alcune delle scene più un-American della storia americana, è altrettanto indubitabile che oggi l'America è anche il suo presidente uscente, votato da milioni di persone e sostenuto da centinaia di legislatori di quello stesso Congresso in cui ieri sono stati costretti a nascondersi come ladri. Oggi tanti non riescono a credere che "fosse ciò che voleva il presidente" (così Rick Santorum), rimangono senza parole, condannano la violenza inaudita (in Italia l'hanno fatto anche i vari Salvini, Meloni, il clan pseudo-liberale di Capezzone, eccetera: banalità da sbadigli, peraltro fuori tempo massimo). Ma l'assalto al Campidoglio del 6 gennaio 2021 non è stato affatto un caso sfortunato: è stato, ripetiamo, il culmine di un processo voluto e scientemente coltivato da Trump, e che i trumpiani di ogni ordine e grado hanno prima reso possibile, poi sostenuto e infine difeso acriticamente di fronte a ogni richiamo al buonsenso e al rispetto delle regole del vivere in comune. Delle loro lacrime di coccodrillo tardive ce ne facciamo poco o nulla".
L'errore del Governatore
Da annoverare fra i coccodrilli dell'ultima ora anche il Governatore della Liguria Giovanni Toti con un post sintetico ma efficace comparso pochi minuti prima delle 23 di mercoledì sul suo profilo social ufficiale: "Desolante spettacolo in America. In democrazia i risultati si accettano, anche se non si condividono. Avrei votato per #Trump. Oggi mi tocca dire: sbagliando". Con dibattito alluvionale, tra sostenitori, ex sostenitori, riposizionati e riposizionandi. Con un mio amico social Andrea Cevasco che, un po' indispettito, lo accusa di benaltrismo e lo invita a restare all'interno del suo territorio e delle sue competenze – come dire… tra Aulla e Novi Ligure – : "Ma come Governatore della Regione Liguria è obbligato a dire la sua su tutto ciò che succede al mondo ??? RSVP".
Era tutto previsto
Epperò, viene da osservare che era tutto largamente previsto, tra Covid, lockdown, zone rosse, zone arancioni e zone gialle, vaccini, vaccinazioni, richiami, vaccinandi e categorie fragili o a rischio. Con una schiera di Nostradamus di turno che il giorno di San Silvestro come novelle Cassandre avevano vaticinato su "Giubbe rosse": "L'epoca della libertà di pensiero e di espressione è finita. Niente che i più perspicaci tra voi non sospettassero da tempo, ma il 2020 ha spazzato via ogni residua illusione di una qualsiasi dialettica basata sull'etica del discorso, utilizzando come spazi di discussione mainstream, network televisivi, reti sociali ad ampia diffusione, canali di informazione tradizionali.
Ammesso solo un pensiero. Quello ufficiale
Ormai è ammesso uno e un solo pensiero: quello ufficiale. Abituatevi alla censura, perché d'ora in poi sarà la norma. Non solo chi controlla i mezzi di informazione non è più disposto a concedervi il diritto al dissenso. Quella parte di società che si riconosce nel pensiero ufficiale è la prima a chiedere la censura e la marginalizzazione del pensiero non allineato. Detto in parole più brutali: non vogliono ascoltarvi, anzi, saranno i primi a invocare la censura contro di voi. Non importa se avete ragione o torto o se semplicemente avete il diritto di manifestare il vostro pensiero: sono disposti ad accettare unicamente ciò che conferma la propria visione del mondo. Il prossimo passo sarà negarvi il diritto alla frequentazione degli spazi pubblici, poi quello alle prestazioni sanitarie, infine quello al voto. Siamo entrati in una nuova fase, quella dello scontro totale, dove presto o tardi anche chi finora ha esitato a schierarsi sarà costretto a farlo. Quanto prima ve ne farete una ragione, tanto meglio sarà per voi".
Toti criticato da Destra e Sinistra
Motivo per cui il Governatore è stato ampiamente criticato sul suo stesso profilo ufficiale. Da destra e da sinistra. Con intervento dei sentinelli e dei sentinelli dei sentinelli. A riprova che nel gruppo di comando in Regione gli equilibri sono davvero cambiati. Insomma quel post di benvenuto a Graeter, la neonata di origini nigeriane, probabilmente poteva essere stato frutto di un qualche calcolo. E se al contrario non lo era stato, la replica seccata del leghista Mai ha contribuito a fugare ogni dubbio che proprio così era stato decodificato.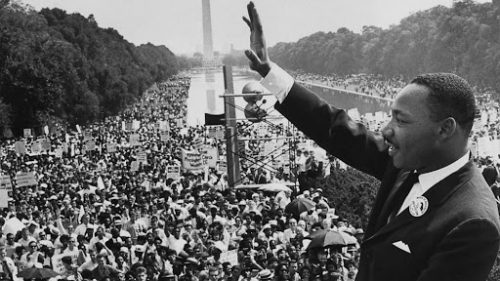 "I have a dream". Da sogno a incubo
Comunque lo stato dell'arte è questo tra sciamani della politica, colleghi comunicatori, frontman o frontwoman dell'informazione, colleghi giornalisti eletta schiera etc… etc…. etc… con un futuro buio di fronte, secondo quanto viene vaticinato poco sopra da "Giubbe rosse". E così sia, anzi amen o awoman. Tantopiu' che  trumpismo o non trumpismo, malattia endemica oppure pandemia negli USA dell' "I have dream" del reverendo King, che a 67 anni di distanza si è trasformato in un incubo vero e proprio, come spesso succede le avanguardie del virus iniziano a fare la loro comparsa anche nel nostro paese. Vuoi per la crisi del pluralismo dell'informazione, vuoi per la crisi dei quotidiani e della carta stampata, vuoi per la concentrazione delle testate Il mano a gruppi editoriali quotati in borsa.
Siti amici e non testate giornalistiche
Ma soprattutto perché anche i nostri politici hanno alle loro dipendenze vere e proprie redazioni che trattano allo stesso modo, e a volte mischiandole, la propaganda e la comunicazione istituzionale, spesso spacciandola per informazione. Aumentando la dose della propaganda a seconda dell'avvicinarsi di un qualsiasi appuntamento elettorale, o di qualche delibera o decisione particolarmente importante. Privilegiando non solo emittenti televisive ma anche siti di informazione rispetto a testate giornalistiche storiche e regolarmente registrate. E in qualche caso maggiormente accreditate.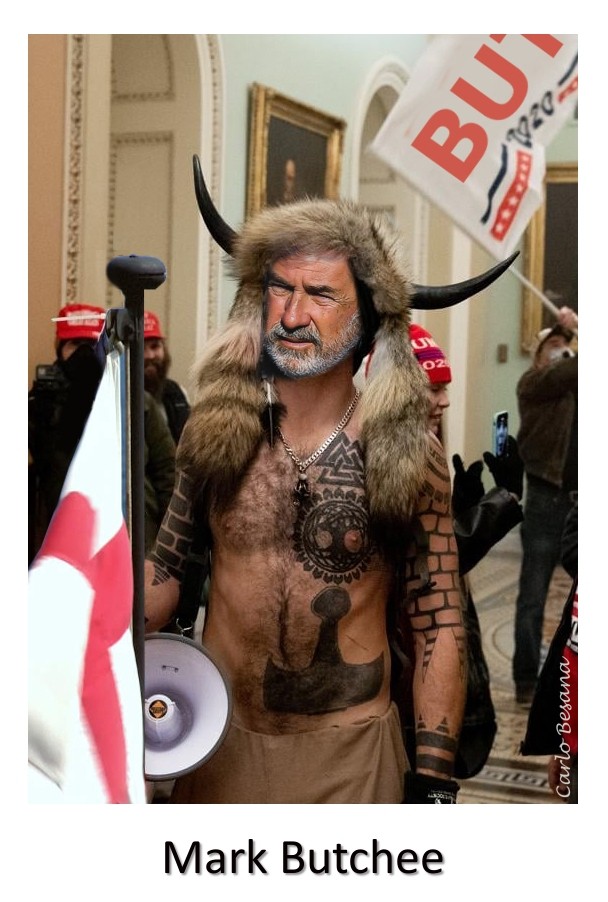 Quei giornalisti depositari del pensiero unico
L'ultimo episodio riguarda il Sindaco Marco Bucci che si è rifiutato di rilasciare dichiarazioni alla giornalista de "Il Secolo XIX" che aveva intervistato alcuni presidenti dei municipi, di centrodestra e di sinistra, assai critici nei confronti della riforma del decentramento votata in consiglio comunale in una seduta che si è tenuta due giorni prima di capodanno.
Riforma che logicamente fa discutere e legittimamente lascia perplessi. E allo stesso modo fa discutere e lascia perplessi che Marco Bucci, che si è presentato subito dopo l'elezione come "Il sindaco di tutti", preferisca non commentare e magari si rifugi poco dopo, per affrontare lo stesso argomento, in un ambiente più comprensivo.
Il tutto, comunque, senza che nessuno dei non beneficiati rilevi lo sgarbo del primo cittadino e "sindaco di tutti". Ripicca che non è tanto ai giornalisti ma ai suoi lettori. Sintomo di acquiescenza, forse, nei confronti del potere politico. O peggio, riprova della carta stampata ormai trattata alla stregua di carta straccia, essendo a pagamento. Con la comunicazione politica e istituzionale fatta quasi esclusivamente attraverso i social personali e l'opinione pubblica orientata dai post e attraverso i commenti dei cosiddetti "sentinelli" sempre pronti ad intervenire.
A riprova che come annunciava il"Nostradamus" di "Giubbe Rosse" : "Ormai è ammesso uno e un solo pensiero: quello ufficiale". E che "Quella parte di società che si riconosce nel pensiero ufficiale è la prima a chiedere la censura e la marginalizzazione del pensiero non allineato".
E qualcuno a questo punto inizia a nutrire qualche timore per la democrazia, e per la partecipazione dal basso. Anche quella dei municipi ai quali il grande manovratore intenderebbe togliere competenze e risorse.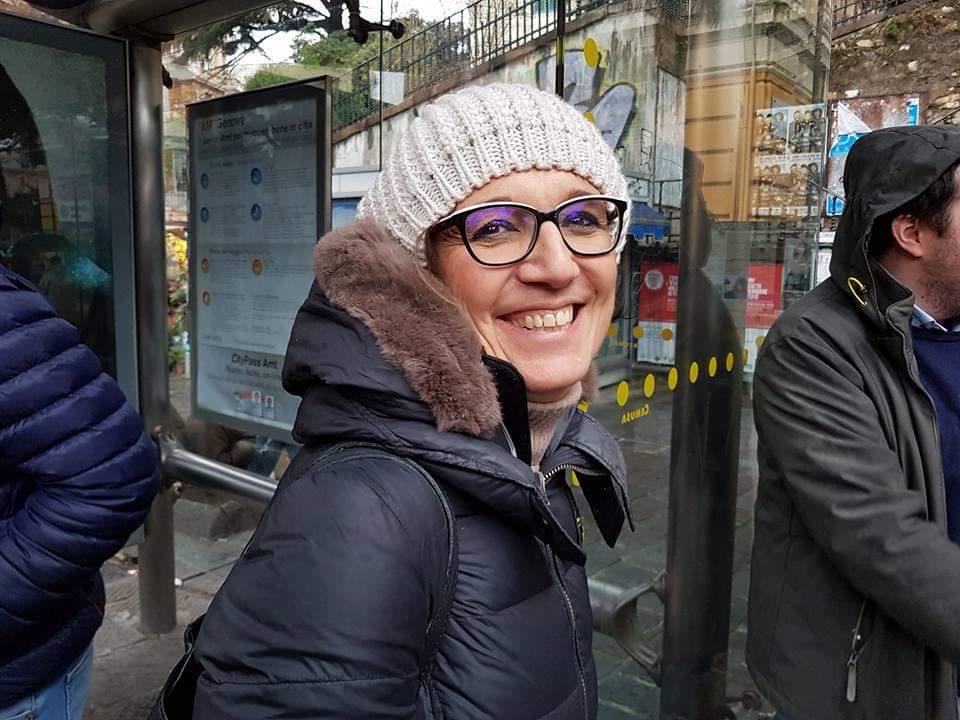 La petizione: "I Municipi non si toccano"
Intanto Cristina Lodi, capogruppo del Pd in consiglio comunale ha lanciato una petizione " I Municipi non si toccano" per opporsi al disegno di sottrarre fondi pubblici, autonomia e capacità di intervento ai municipi. Si dice nella petizione " I municipi esistono proprio in quanto grazie alla loro presenza sul territorio sono i primi diretti interlocutori dei cittadini in merito alle criticità e alle necessita delle aree che rappresentano". E chiarisce la Lodi "La prepotenza, la mancata trasparenza, la pericolosità di questa amministrazione nel danneggiare il nostro sistema democratico comincia ad essere troppa". Nel frattempo non è nemmeno un mistero che nonostante la forte personalità del nostro primo cittadino anche i presidenti dei municipi a maggioranza di centrodestra si siano dimostrati alquanto scettici sul progetto di riforma. Anche se il nostro primo cittadino si esalta nelle competizioni in cui tendenzialmente è portato a mettere in campo tutto il suo agonismo, promettendo sfracelli e zampate. Perchè esaurita la spinta propagandistica del ponte e dei cronoprogrammi, ha dovuto trovare, evidentemente, un'altra ragione in cui testare gli attributi.
Insomma è come se lo spirito battagliero di quel Jake Angeli con la testa di bufalo e tanto di corna si fosse trasferito in lui. Magari a sua insaputa. In lui che ha personalizzato e introiettato così bene l'interpretazione del manager che viene dagli States. Ed evidentemente un po' del decisionismo trumpista se lo porta dentro. Come da sapiente lavorazione fotografica del mio amico social Carlo Besana.
E comunque sarebbe una ragione in più per testare il suo elettorato in vista del 2022, perché concluso il primo mandatointenderebbe, né piu né meno del Tycoon, succedere a se stesso. Magari con la benedizione, oppure senza, del sodale Giovanni Toti, visti i recenti risvolti nei rapporti fra il Governatore e la Lega di Edoardo Rixi che nel 2015 era stato il grande elettore proprio di Marco Bucci. Attribuendosene il merito e inserendolo in forza al suo partito.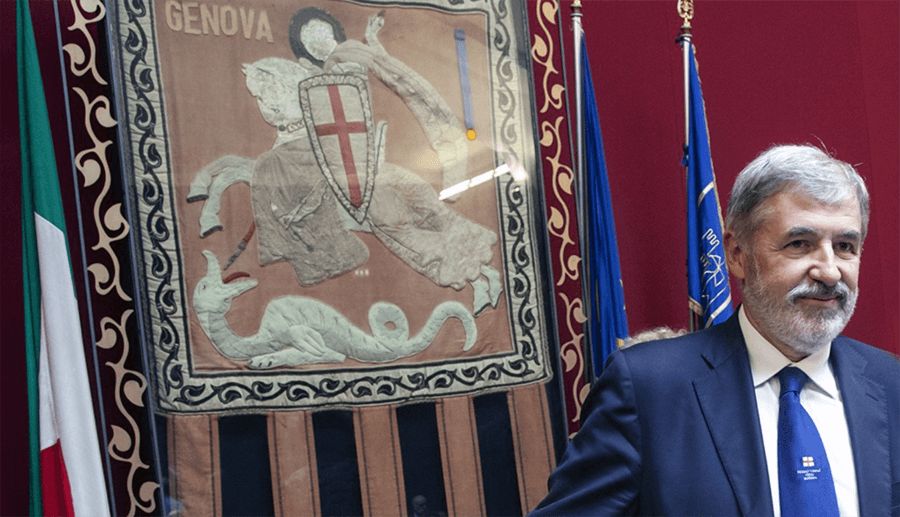 Sondaggio senza storia. A.A.A. Avversario cercasi
Intanto il mio amico social Enrico Testino ha iniziato a fare qualche calcolo in vista dell'appuntamento elettorale che si terrà tra un anno e mezzo. E scrive in un post: "Ho visto un primo sondaggio sulle comunali di Genova di maggio 2022.
Nel caso si candidi Bucci (cosa che non è certa). Copio solo i primi due candidati.
Ipotesi 1
_ Bucci 65%
_ Nessuno 35%
Ipotesi 2
_ Bucci 67%
_ Candidato di PD, sinistra e M5s scelto due mesi prima dopo un anno di liti sul nome e sul fare o no la coalizione: 33%
Ipotesi 3
_ Bucci 67%
_ Poveraccio del PD presentato come la carta vincente, la migliore persona, quello che ci vuole per la città: 27%
Ipotesi 3 (si, vabbè)
_ Bucci
_ Candidato di coalizione PD, sinistra, M5s scelto 8 mesi prima dopo discussioni pubbliche con un programma condiviso".
Insomma al momento non parrebbe esserci storia per la riconferma, specie alla luce di quanto è accaduto in Regione con il candidato della sinistra Ferruccio Sansa. Un implicito messaggio alla coalizione di opposizione a darsi da fare per tempo ad individuare l'eventuale avversario per far crescere l'elettorato. Magari per cullare un sogno. Tanto per divertirci a vedere se, nel caso pur inverosimile, di sconfitta, in puro stile old America qualcuno prima parlerà di brogli, poi si calcherà in capo una testa di bisonte cornuto, cappeggiando l'assalto al congresso.
Intanto, comunque,  per incamerare esperienza sta facendo le prove con i municipi. Partita che potrebbe risultare facile visti i tempi di reazione di chi intenderebbe contrastarlo quando i buoi, anzi i bisonti, sono già fuggiti dai recinti. E gli eventuali avversari, almeno per ora, sembrerebbero allo sbando. A rincorrere i bufali, o le vacche magre, o i fantasmi nelle praterie o nei deserti di una politica impazzita.
Paolo De Totero