Primati e primati, la scimmia nuda
Intendiamoci – sia sul titolo che sull'immagine di copertina – "Primati" non dovrebbe avere nulla a vedere con le scimmie. Anche se, in fondo in fondo, atteggiamenti più o meno umani e rincorsa –  appunto – verso l'autoproclamazione di primati – nel senso di record, più o meno personali, atletici ma soprattutto politici – potrebbero invece risultare profondamente connaturati.
Prendete, ad esempio una canzonetta, ancorché trionfatrice a Sanremo, "Occidentalis Karma", quando Francesco Gabbani canta: "AAA cercasi (cerca sì) / Storie dal gran finale / Sperasi (spera sì) / Comunque vada panta rei / And singing in the rain". Non a caso con quel riferimento a "La scimmia nuda" di Desmond Morris studio zoologico sull'animale uomo, un libro divulgativo pubblicato nel 1967, che descrive la specie umana attraverso lo sguardo di un etologo in cui la tesi principale del libro è che la pelle sia l'organo che distingue di più gli esseri umani dagli altri primati.
L'assorbimento imitativo
Comunque, in verità a suggerirmi l'argomento del mio articolo odierno è stato un post ironico di Walter Massa, il presidente dell'Arci, il quale, venerdì' sera, introduceva cosi' un articolo di Telenord sui lavori di oggi con i quali inizierà lo smantellamento della Diga di Begato
Chiede in tono satirico Massa: "Genova sarà la prima città ad avere la gru più alta d'Italia". Chi potrebbe dire una frase così? a) Il presidente dell'ordine dei gruisti / b) Il sindaco di Genova / c) Il presidente dell'Ordine degli Psichiatri".
Con tanto di commenti che burlescamente fanno riferimento a quei riti adolescenziali a constatare più che l' altezza la presunta lunghezza, e, comunque, sempre una gara. Per la quale, mi sembra, si adatti benissimo ancora un pensiero di Desmond Morris tratto proprio dal suo libro: "Gran parte di quello che facciamo da adulti si basa sull'assorbimento imitativo che avviene durante l'infanzia. Spesso pensiamo di comportarci in un determinato modo perché questo comportamento si accorda con qualche codice di astratti e nobili principi morali, mentre in realtà non facciamo altro che obbedire ad una serie di impressioni puramente imitative, profondamente radicate e da lungo tempo dimenticate".
E, a proposito della coazione a ripetere, proprio nei commenti al post del presidente dell'Arci chiosa Yuri Pertichini: "Dopo lo scivolo/ tagadà più lungo (e meno scivolante) della galassia", facendo riferimento ad un altro evento passato largamente pubblicizzato che poi mostro', al di là della propaganda incalzante, qualche pecca.
Diretta dalla diga di Begato
Intanto l'evento di oggi pomeriggio pubblicizzato e largamente comunicato è quello dell'inizio dei lavori di smantellamento del quartiere della Diga di Begato, per il quale è prevista anche la diretta televisiva di due emittenti locali, TeleNord e PrimoCanale. Ma a tenerci incollati allo schermo tv ci sarà un altro appuntamento pur nell'evento. L'utilizzo della gru più alta d'Italia, da cui nasce il post ironico di Massa.
Scrive Alessandro Bocci proprio sul sito di TeleNord: "La gru più alta d'Italia è pronta ad entrare in funzione a Begato. In queste ore è stata montata e lunedì inizierà ad operare. Il macchinario effettuerà la demolizione degli ultimi piani della Diga, passo necessario per l'abbattimento della struttura. La gru è alta 60 metri e una volta demoliti i piani alti, permetterà di intervenire sui piani inferiori con le altre due gru da 30 metri. L'operazione viene effettuata dopo lo svuotamento interno della struttura, cosiddetto 'strip-out', che ha comportato l'eliminazione dei servizi, delle utenze, dei panelli di facciata, dei materiali isolanti e degli arredi rimasti. Solo una piccola porzione della Diga Bianca di Begato resterà in piedi, corrispondente al civico 11 di via Cechov con all'interno 47 appartamenti che saranno oggetto di riqualificazione e che andranno a costituire il primo nucleo del piano di rigenerazione edilizia. L'operazione completa di demolizione si concluderà a novembre".
Un macchinario usato anche a Scampia
Poi qualche nota sulle dimensioni e sulle precedenti utilizzazioni del mezzo meccanico: "La gru in questione, è la più alta in Italia, utilizzata per interventi di demolizione edilizia. È stata già impiegata nella demolizione delle Vele di Scampia, del silos del porto della Spezia e di alcune raffinerie in Germania. Vista la sua mole, ha un peso di 220 tonnellate, è stata caricata su due Tir e altri sei convogli per un viaggio che è durato tre giorni da Modena a Genova".
E ancora: "A inizio agosto le prime operazioni di strip-out, cioé di smontaggio delle parti non strutturali, ed ora prenderà il via la demolizione vera e propria, con l'utilizzo della grande gru arrivata in cantiere solo pochi giorni fa. La Diga di Begato, il mostro di acciaio e cemento sorto negli anni '80 sulle alture della Valpolcevera, sarà smantellato quasi interamente, a partire da lunedì 19 aprile. Alle 16.30 infatti il braccio meccanico comincerà a "mordere" i pianti più alti di quella parte del complesso chiamato Diga Bianca, in via Maritano, per poi andare avanti con la cosiddetta Diga Rossa. L'operazione completa di demolizione che verrà effettuata attraverso un escavatore cingolato dell'altezza di 60 metri, si concluderà a novembre".
La solita cerimonia
E infine: "Alla partenza dell'abbattimento totale saranno presenti il presidente di Regione Liguria Giovanni Toti, l'assessore regionale all'Urbanistica Marco Scajola, il sindaco di Genova Marco Bucci, l'assessore comunale al Patrimonio Pietro Piciocchi e l'amministratore unico di ARTE Genova Girolamo Cotena.
Telenord sarà in diretta, a partire dalle ore 16, per raccontarvi tutto con le immagini della nostra troupe presente sul posto, proprio ai piedi della Diga".
Insomma i nostri solerti rappresentanti istituzionali non potevano mancare a questa sorta di passerella.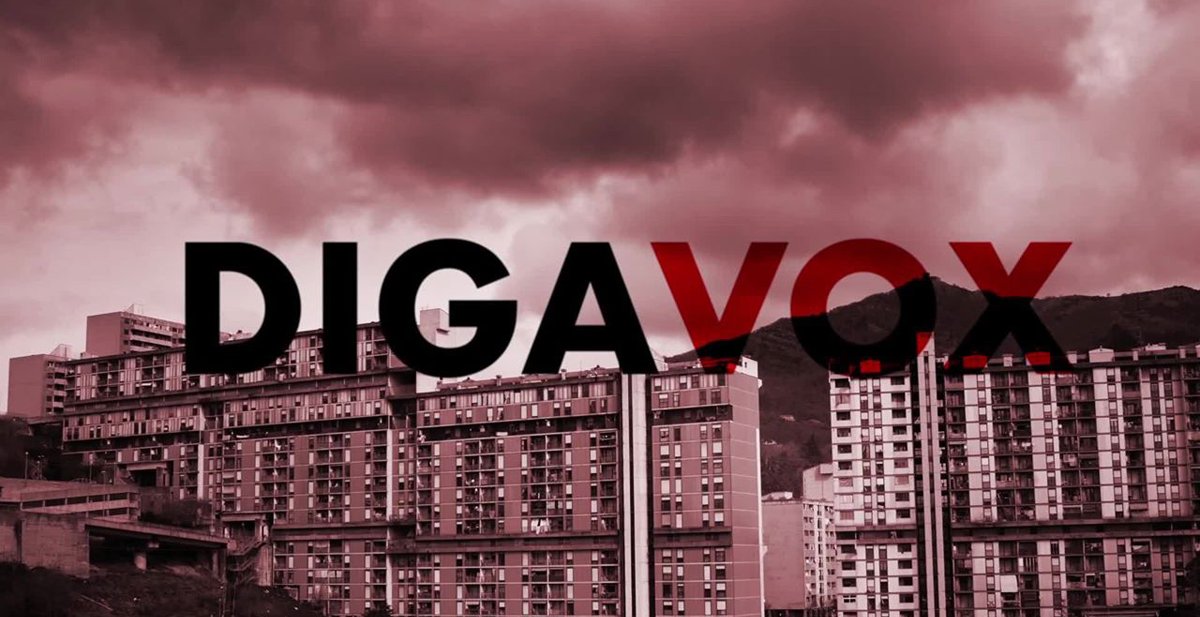 Il documentario che aprì il dibattito
Anche se alcuni di loro, appena tre anni fa, ignoravano completamente il problema, scrive Ludovica Schiaroli,  autrice del documentario DigaVox insieme a Ugo Roffi, Simona Tarzia, Fabio Palli, su Open ddb: "Nel 2018 esce DigaVox, il documentario che apre il dibattito sull'emergenza abitativa a Genova, seguono presentazioni, iniziative e il coinvolgimento della politica cittadina. Nel 2019 Comune e Regione annunciano un piano per riqualificare il quartiere. A fine mese la demolizione della Diga entrerà nel vivo, ma i problemi non sono ancora risolti.
Prologo. Da qualche giorno davanti alla Diga è comparsa una mega cesoia – «è la stessa che si è "mangiata" le Vele di Scampia» – dicono al Quartiere Diamante ". E aggiunge " Costruita da una giunta di centrosinistra e diventata negli anni luogo di emarginazione e disagio sarà la prima giunta comunale di centrodestra  a buttarla giù, insieme a Regione Liguria (sempre a trazione centrodestra). «Sarà l'intervento di riqualificazione nell'ambito delle case popolari più importante dal dopoguerra» ha dichiarato l'assessore alla casa del comune Piciocchi. E certamente la demolizione della Diga insieme alla ricostruzione del Ponte San Giorgio(ex Morandi) saranno i due gagliardetti che si attaccherà al petto il sindaco Bucci quando chiederà ai genovesi di votare di nuovo per lui nel 2022. Se la demolizione è certa, quello che verrà dopo lo è meno. Il disagio non si cancella con le ruspe ma con nuova progettualità, servizi e politiche sociali.
Una questione più sociale che urbanistica
Dalle testimonianze di DigaVox emerge chiaramente come la questione Diga deve essere risolta prima di tutto da un punto di vista sociale, non solo urbanistico. Le periferie devono smettere di essere delle polveriere, dove si concentra tutto il disagio sociale cittadino.
Ma ad oggi la risposta delle istituzioni si ferma agli interventi urbanistici, che certamente sono notevoli. All'ordine del giorno c'è dopo il trasloco di circa 374 famiglie e la fase di strip out interno (sono state tolte infissi, termosifoni, impianti elettrici…) la demolizione vera e propria.
Ma quello che preoccupa di più i residenti – oltre alle difficoltà per la viabilità e per le polveri dovute ai cantieri – è cosa verrà dopo. "Il progetto che era stato presentato è cambiato – racconta Francesco Corso, tra i protagonisti di DigaVox e vicepresidente del Comitato Quartiere Diamante – le sette palazzine di tre piani che dovevano rappresentare il diradamento e la riqualificazione urbanistica sono sparite e al loro posto, per quello che ho avuto modo di vedere, il progetto lascia invece spazio a tre palazzoni di sei piani. Per il momento sappiamo che ci sono i soldi per la demolizione, resta un punto interrogativo per la ricostruzione, sia per quanto riguarda i progetti che i soldi necessari".
Insomma l'impressione personale, ma non solo, è che oltre al primato della gru più alta d'Italia la nostra amministrazione si appunterà al petto anche la medaglia di un intervento urbanistico che lascia invece in chiave futura molti interrogativi.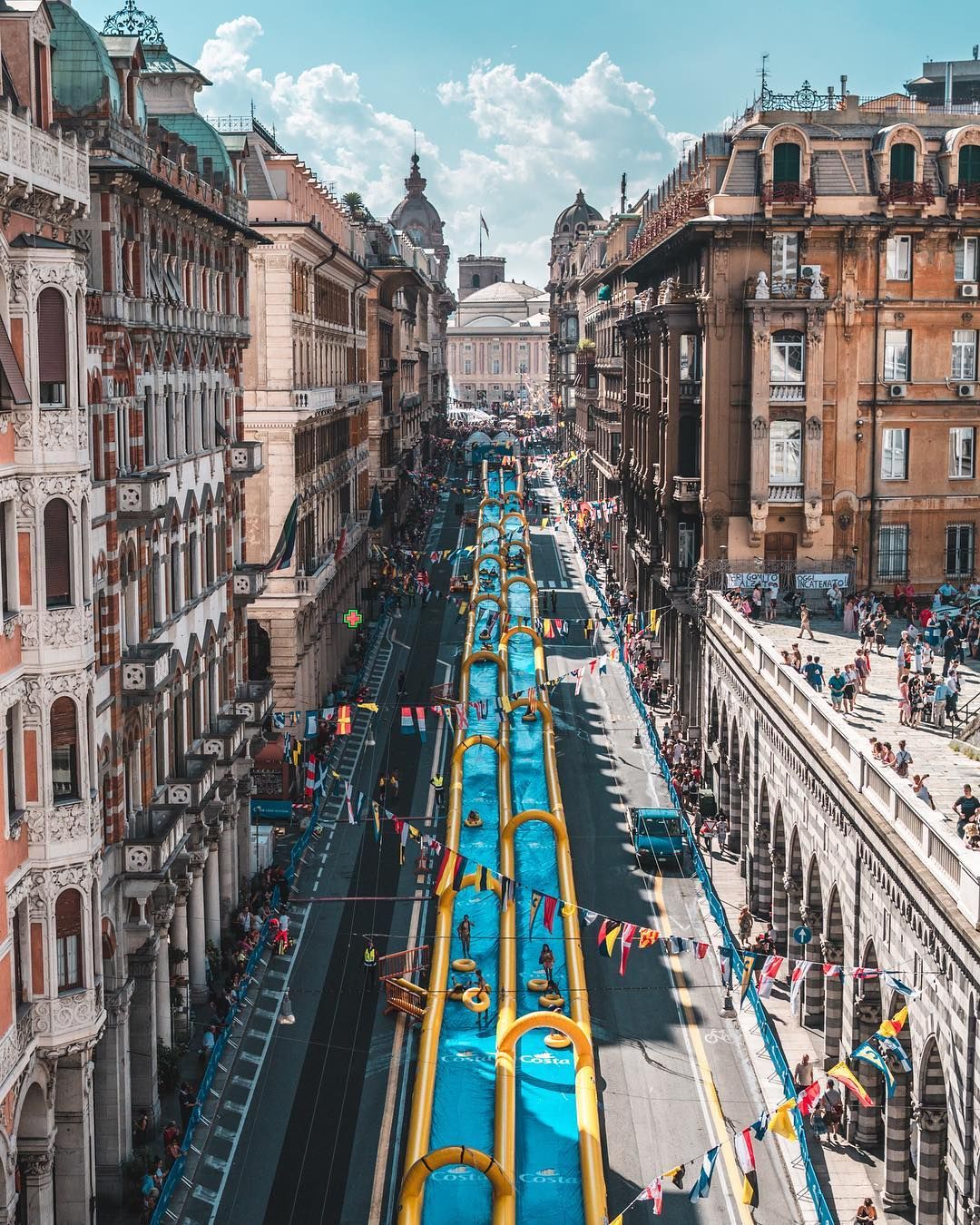 Il record dello scivolo che non scivolava
Epperò la campagna elettorale per le prossime ammministrative parrebbe iniziata da qualche tempo. E comunque lo stile comunicativo sembra sempre essere stato questo. Dagli ombrellini alle girandoline. Dai red carpet allo scivolo di cui parlava Yuri Pertichini. Anche in quel caso, era l'8 luglio di tre anni fa, a caccia di qualche record surreale.  Trecentoquaranta metri di scivolo, da piazza De Ferrari al fondo di via Venti Settembre. Lo scivolo più lungo al mondo lo aveva definito Costa Crociere che aveva festeggiato a Genova i suoi settanta anni di attività con una festa. Con il filo di 2070 bandierine, secondo la tradizione nautica, più lungo al mondo.
Raccontava un articolo dell'epoca:
"A dare il via alla festa è stato lo scivolo: il direttore generale di Costa Crociere Neil Palomba, il presidente della Regione Giovanni Toti e il sindaco di Genova Marco Bucci, in pantaloncini corti e maglietta hanno effettuato la prima discesa, divertendosi come bambini". Tranne poi rendersi conto che il calcolo della pendenza era errato e che per arrivare in fondo occorreva gattonare sul salvagente e spingersi a vicenda o a forza di braccia. E comunque, annotava ancora il giornale: "Unica pecca il fallito tentativo di conquistare anche il primato della scivolata più lunga in un'ora. Anche se 2000 persone alle 16 oggi si erano già lanciate".
Perché, inevitabilmente, lo stile comunicativo su cui si è deciso di fare leva deve essere quello dell'anonima Genova che batte tutti i record ridiventando superba. Il perfetto stile dell'ex commissario del ponte San Giorgio con tanto di cronoprogrammi, esternazioni, e "progetto Genova" poi menzionati ed esportato, che ha permesso di bruciare le tappe per la ricostruzione.
Anche se poi quei primati, stabiliti o meno, rischiano di restare vuote attribuzioni di principio, utili soprattutto alla propaganda e a semplificare ai fini della comunicazione propagandistica realtà sociali molto più complesse.
Dal record dei rimpasti a quello dei vicesindaco
Perché poi non sempre è tutto oro quel che luccica, talvolta frutto più dell'avventatezza che del decisionismo a tutti i costi che hanno contraddistinto questa amministrazione in cui il "cambiamento per il cambiamento" – tutto cambia perché nulla cambi, scriveva Tomasi di Lampedusa nel suo Gattopardo – vorrebbe essere un elemento di novità rispetto ai predecessori. Senza invece contare la sensazione di instabilità in una giunta che ha visto un numero record di rimpasti ed assessori nuovi, con tre vicesindaci in quattro anni, un assessore con una sfilza mai vista di deleghe, un numero enorme di consiglieri delegati, una pletora incredibile di saggi, supersaggi, ambasciatori che a distanza di tre anni, e con il via vai di assessori, non si sa che fine abbiano fatto. Il tutto a contrastare travtanta abbondanza, invece, con alcune carenze. Come la mancanza di un assessore alla protezione civile e di uno ai servizi sociali. Primati anche quelli, comunque.seppur negativi.
Però oggi sarà bello concentrarsi sul mirabolante evento della gru più lunga, pardon, più alta.
Come diceva Gabbani "AAA cercasi (cerca sì) / Storie dal gran finale / Sperasi (spera sì) / Comunque vada panta rei/ And singing in the rain. In modo che la "scimmia nuda" continui a ballare. A caccia di primati e, in un futuro prossimo, anche di voti.
Paolo De Totero

Redazione del quotidiano digitale di libera informazione, cronaca e notizie in diretta