Voltaire il Candido e l'ottimismo
"Io combatto la tua idea, che è diversa dalla mia, ma sono pronto a battermi fino al prezzo della mia vita perché tu, la tua idea, possa esprimerla liberamente". In un recente passato mi è capitato di leggerla con straordinaria ricorrenza questa frase. Con tanto di curioso aneddoto storico della falsa attribuzione a Voltaire, alias Francois-Marie Arouet, uno dei padri dell'illuminismo francese, nonché filosofo, drammaturgo, storico, scrittore, poeta, aforista, enciclopedista, romanziere, saggista, nonché autore di fiabe. L'autore de "Le candide" ove traspare con il suo spirito caustico e critico, il desiderio di chiarezza e lucidità, il rifiuto del fanatismo superstizioso, con una ferma fiducia nella ragione, ma senza inclinazioni eccessive all'ottimismo e alla fiducia nella maggior parte degli individui. L'anti-Leibniz per eccellenza del quale non condivide affatto l'ottimismo ipocrita, il "tout est bien" e la cosiddetta teoria "dei migliori dei mondi possibili", perché fanno apparire ancora peggiori i mali di origine naturale e non, che sperimentiamo, rappresentandoli come inevitabili e intrinseci nell'universo. Ad esso oppone il vero ottimismo, ovvero la credenza nel progresso umano di cui la scienza e la filosofia illuminista si fanno portatori, anche se una minima parte di quei mali sono davvero intrinseci e occorrerà comunque sopportarli.
Quei moderni amici di Voltaire
Sino a scoprire, poi che la prima ad ascrivere quella bella frase a Voltaire già bello e sepolto nella forma meno ridonadante "Disapprovo quello che dici, ma difenderò fino alla morte il tuo diritto a dirlo" fu Evelyn Beatrice Hall, saggista conosciuta con lo pseudonimo di Stephen G. Tallentyre, in una biografia di Voltaire del 1906, dal titolo "The Friends of Voltaire" (Gli amici di Voltaire).
E mi è tornata in mente quella frase usata ed abusata sino a diventare un pluricitato aforisma, simbolo non solo di tolleranza ma di attitudine alla democrazia, al confronto e, perché no, al dialogo. A dire la verità non tanto per la frase ma per… " gli amici di Voltaire – The friends of Voltaire", capaci di esprimere in un solo aforisma il senso della tolleranza, quando ho letto del divieto di utilizzare l'uso della sala di rappresentanza di Palazzo Tursi ai partiti del centro sinistra che intendevano presentarsi nel corso di una conferenza stampa, in vista delle prossime elezioni amministrative.
Una querelle ai limiti del surreale
Una querelle ai limiti del surreale con tanto di botta e risposta con strascichi ulteriori, il tutto a beneficio della stampa. E con rinnovata polemica sull'uso "dopato" dell'ufficio stampa di palazzo Tursi. In un crescendo di gaffes fantozziane. Ma, purtroppo, questa è la politica attuale che si segnala per mancanza di forma e cultura istituzionale. Ma andiamo con ordine, raccontando di una polemica che trae spunto dalla richiesta dell'uso del salone di rappresentanza di palazzo Tursi degli esponenti dei partiti dell'opposizione. Domanda che viene regolarmente cestinata dal segretario generale del Comune Pasquale Criscuolo facendo riferimento ad una norma del regolamento voluta dal sindaco Beppe Pericu in cui si diceva, fra l'altro: "L'utilizzo degli spazi è strettamente connesso all'esercizio del loro mandato in rapporto all'attività svolta per il consiglio comunale. Alla suddetta condizione si ritiene non riconducibile la finalità' della vostra richiesta, ovvero la realizzazione di una conferenza stampa dei gruppi consiliari in relazione a nuove alleanze politiche in previsione delle prossime amministrative".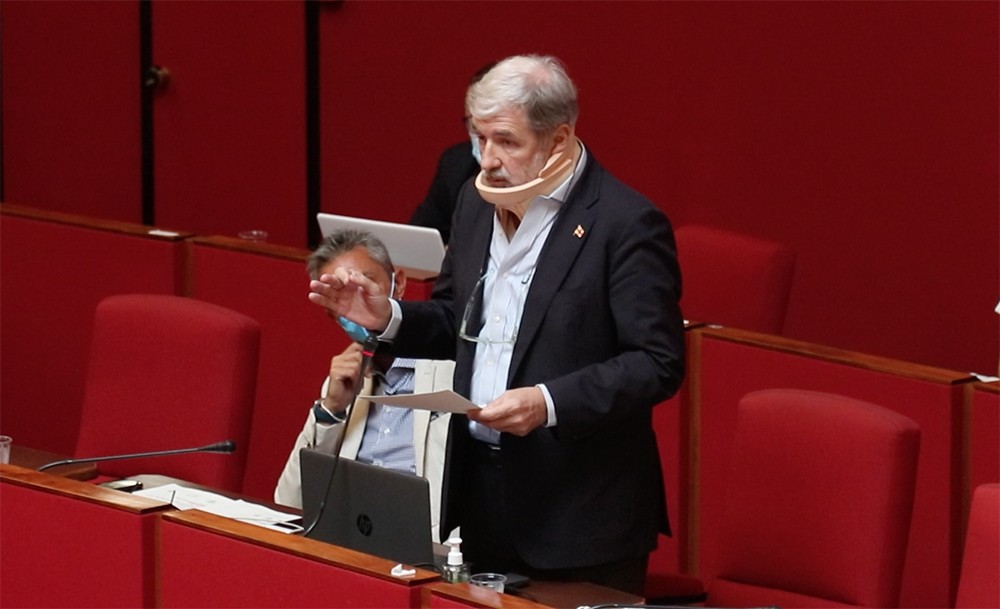 La piccata risposta e la concessione del sovrano
L'immediata protesta degli esponenti del centrosinistra ha dato modo al sindaco Marco Bucci di rispondere con un puntuto post su Facebook. " C'è una cosa che capita spesso al centro sinistra negli ultimi anni: non avendo argomenti su cui fare opposizione inventa con ciò che ha… succede che la lista Crivello abbia chiesto al Comune di Genova l'utilizzo del Salone di Rappresentanza di Palazzo Tursi per convocare i giornalisti e presentare la coalizione di sinistra per le prossime elezioni amministrative. Gli uffici del Comune hanno risposto che la sala non può essere concessa per quella finalità in base alle norme sancite da una delibera del 23.11.2000 della giunta Pericu (PERICU non BUCCI) che dispone che l'utilizzo degli spazi del salone  sia "strettamente connesso all'esercizio del loro mandato in rapporto all'attività svolta per il consiglio comunale". E la presentazione di una campagna elettorale non rientra in tali prerogative. Le regole fatte da loro ieri gli servono oggi per gridare al "Bucci dittatore", "Bucci padrone di palazzo Tursi". Tutte balle: Bucci lavora per la città, a servizio dei genovesi rispettando e facendo rispettare le regole". E fin qui… solo che poi arriva il colpo di teatro. Quello che non ti aspetti. Perché il feroce Bucci tutore di leggi e regolamenti, che dice di voler far rispettare a tutela dei suoi concittadini genovesi, si contraddice: "Comunque sia, domani, le porte del Salone di Rappresentanza resteranno spalancate per i gruppi di opposizione alla feroce ricerca di un po' di visibilità". Un'immagine tanto simile a quella del monarca che concede e a suo uso e consumo interpreta leggi e regolamenti.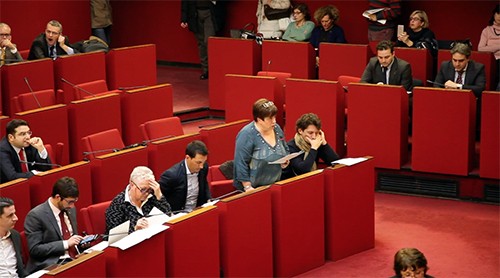 Il carico dei capigruppo di maggioranza
Insomma un farsa, obietta qualcuno. Che sarebbe stato semplice evitare anche per un monarca illuminato ricorrendo appena al senso di discrezionalità che ogni legislatore più o meno esperto concede almeno in parte aun qualsiasi amministratore e/o sovrano. Comunque nessuna comunicazione ufficiale in merito ai richiedenti. Tanto che la conferenza stampa è avvenuta dentro al palazzo Tursi ma fuori dal Salone di Rappresentanza.
Tutto concluso? Ma nemmeno per sogno. Perché il post del sindaco Marco Bucci, con tanto di concessione più o meno gentile, riscalda ulteriormente gli animi.
Come se non bastasse, forse inconsapevoli della elargizione del loro massimo rappresentante, i capigruppo che in consiglio comunale rappresentano la maggioranza ci mettono il carico con un comunicato fatto diffondere dall'ufficio stampa di palazzo Tursi: "
Nota congiunta capigruppo della maggioranza
Delibera Pericu vieta uso Salone di Rappresentanza a partiti, il centrosinistra
lo chiede per presentarsi alla stampa. Capigruppo maggioranza a Tursi: "Non
rispettano le loro stesse regole".
"Il Regolamento comunale parla chiaro e non lascia adito a interpretazioni elastiche. Il Salone di Rappresentanza non può ospitare manifestazioni dei partiti. Le regole sono limpide e vanno rispettate da tutti, tanto più che in questo caso le ha scritte proprio chi oggi se ne picca. L'uso della sala è strettamente connesso all'esercizio del mandato dei consiglieri e dei gruppi consiliari in rapporto all'attività svolta per il Consiglio comunale. I nostri gruppi, prima in minoranza e oggi in maggioranza, hanno sempre rispettato e continueranno a rispettare le regole. Invitiamo l'attuale opposizione a fare lo stesso nel rispetto
dei genovesi". Lo dichiarano in una nota i capigruppo di maggioranza a Tursi Lorella Fontana, Mario Mascia, Mario Baroni, Alberto Campanella e Marta Brusoni".
Al che risponde Gianni Crivello "L'USO DEL SALONE DI RAPPRESENTANZA DI PALAZZO TURSI, IL RISPETTO DELLE REGOLE SEMPRE E COMUNQUE E LA MEMORIA CORTA DEL CENTRODESTRA
A proposito della nota congiunta dei capigruppo di centrodestra del Consiglio Comunale di Genova desideriamo tranquillizzare i rappresentanti della maggioranza e chiarire alcuni aspetti che evidentemente sono loro sfuggiti in riferimento al rispetto delle regole. Esiste ovviamente un regolamento che inevitabilmente andrebbe interpretato e applicato in maniera univoca, infatti se la memoria non ci inganna in alcune circostanze l'uso del Salone di Rappresentanza è stato utilizzato su temi ed argomenti che nulla avevano a che fare con l'esercizio del mandato dei gruppi consiliari. Nel gennaio 2019 i consiglieri comunali Grillo, Fontana, Avvenente e Santi avevano organizzato una riunione del mondo socialista dal titolo: "Lascito Politico di Craxi ancora attuale. La politica italiana e estera di Craxi", vorremmo che i colleghi ci aiutassero a trovare un collegamento tra questa iniziativa e l'attività dei rispettivi gruppi. Qualche dubbio lo nutriamo anche sul convegno, organizzato a gennaio 2020, dalla Lega sull'immigrazione dal titolo: "Aiutiamoli a casa loro". Per concludere, sempre nel 2019, il PD, Leu e il M5S organizzarono nello stesso salone un incontro titolato: "Quali priorità per il nuovo governo", anche in questa occasione vi invitiamo a trovare un minimo rapporto tra l'argomento trattato e il ruolo istituzionale dei gruppi sopracitati. Non è escluso che se approfondissimo la nostra ricerca potremmo recuperare altro materiale simile. Quali valutazioni espresse, nei casi sopracitati, la Segreteria Generale?  Per concludere vogliamo ricordare ai capigruppo di maggioranza che dopo aver chiarito al meglio il significato delle regole, le stesse andrebbero rispettate da tutti, nessuno escluso, compresi coloro che pensano di poter dare lezioni di democrazia".
Lo scivolone dell'ufficio stampa
Un uso comunque improprio, almeno a rigor di logica istituzionale quello dell'ufficio stampa di palazzo Tursi. Anche  se a non far esplodere il caso sarebbe bastata all'origine un po' di disponibilità al dialogo, magari, addirittura un Segretario Generale capace e tanto in fiducia da poter esprimere qualche stilla di disponibilità che superasse la bieca pratica burocratica. Gia', ma può essere in fiducia un segretario generale che si era allontanato dimettendosi, per poi fare ritorno sotto l'ala del collerico Bucci.
Così il capogruppo del Pd, Alessandro Terrile, che nella vita di tutti i giorni esercita come avvocato, come un qualunque Pangloss è pronto a mettere il dito sulla contraddizione: "L'UFFICIO STAMPA DEL COMUNE DI GENOVA FA POLITICA
Ad aprile avevamo sollevato tutte le nostre perplessità circa la fusione del ruolo istituzionale del capo Ufficio Stampa del Comune con quello prettamente politico di portavoce del Sindaco.
Oggi una nota stampa dei gruppi di maggioranza a Palazzo Tursi è stata inviata utilizzando proprio l'Ufficio Stampa del Comune di Genova.
Un ufficio che non dovrebbe veicolare le posizioni politiche dei gruppi e dei partiti presenti in Consiglio.
Non dovrebbe, ma lo fa. Almeno per i gruppi del centrodestra.
E tutto avviene nell'ipocrisia del Sindaco, per cui ai gruppi di minoranza non viene concesso l'uso di Palazzo Tursi per iniziative politiche.
Ma ai gruppi di maggiornaza viene concesso perfino l'uso dell'ufficio stampa".
"Tutto va bene anche quando si sta male"
Come dire che la sovrapposizione a cui ha dato luogo il nostro sindaco almeno dal punto di vista istituzionale può apparire lapalissiana e in alcuni casi addirittura pericolosa. Di più se il deus ex machina che ha sovrapposto le due  cariche per un curioso caso del destino è in ferie.
Insomma per dirla con Voltaire prendendo spunto dal suo Candido: "Che cos'è l'ottimismo diceva Cacambo – Ahime! disse Candido, è la smania di sostenere che tutto va bene quando si sta male".
Paolo De Totero