Curiosity killed the cat (La curiosità uccise il gatto)
Sono tornato sul luogo del delitto. O meglio non vi ero mai stato, ma mi ero permesso – non me ne vogliano il sindaco Marco Bucci e la Giunta tutta – di indagare almeno sulle cifre che l'opposizione, strumentalmente – come dice appunto Bucci – o forse no, aveva definito esorbitanti.
Però, a mio modestissimo parere, la professione, quella di giornalista, mi imponeva e mi impone di riferire di fatti che si conoscono e per quanto possibile di presenziare e vedere con i proprio occhi per capire e testimoniare. Ah, altra regola della professione, purtroppo spesso dimenticata, è quella di cercare di non essere parziali, magari sforzandosi di fare domande. Quando e ove te lo permettano ancora.
Perciò ieri pomeriggio mi sono apprestato di buon grado a visitare personalmente almeno i siti, cinque per l'esattezza, attraverso cui si snoda il cuore della manifestazione Genova Jeans, iniziata giovedì e che si concluderà oggi con la conferenza stampa di chiusura e con "Diamo i numeri". Spazio in cui si tireranno le somme della manifestazione mettendole in relazione, almeno si spera, anche ai costi. Quelli definiti esorbitanti dall'opposizione a palazzo Tursi in relazione a una delibera che vedeva aumentare di cinque volte l'impegno finanziario del Comune e che, a seconda delle fonti istituzionali, variava complessivamente da 820 mila euro a un milione e quattrocento mila euro, come da richiesta del comitato promotore.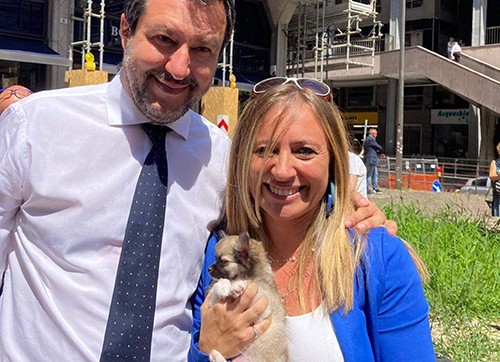 You don't look a gift horse in the mouth ( A caval Donato non si guarda in bocca)
Che poi, diciamocelo, in fondo è stata una bella passerella, per due marchi di jeans, nemmeno genovesi, un assessore, donna e maestra di selfie, con il gusto del maxipresenzialismo con tanto di cane. Talvolta in braccio, talvolta amorevolmente affidato a qualche generoso dipendente comunale. E poi un'occasione imperdibile per qualche commerciante, con referenze autorevoli nell'associazione di categoria, fortunato e autorizzato a mettere in mostra il suo prodotto. Naturalmente a costo zero. E, ancora, per  i soliti noti, organizzatori e non, e persino con qualche legame di parentela nell'ambita e interminabile lista dei saggi di mastro Bucci.
Perché in fondo il marchio che teneva tutto insieme, pur posticcio era il jeans. Ma avrebbe potuto anche essere un altro prodotto tutto genovese. Dal minestrone al maniman. Cioè, sintetizzando, basta che lavorino e ne abbiano qualche beneficio, diretto o indiretto, gli amici e gli amici degli amici. Che poi è il fondamento di un altro tipo di pensiero, tutto italico, o giù di lì. Tu fai un favore a me e io ne faccio uno a te. Insomma una mano lava l'altra. Ovvero …. You scratch my bak And I'll scratch yours. Questione di interpretazioni.
Fortune favours the bold ( la fortuna aiuta gli audaci)
E a questo proposito ho letto con attenzione l'intervista rilasciata dal sindaco Marci Bucci a "Il Secolo XIX" e pubblicata con tempismo perfetto proprio giovedì, il giorno di inizio della manifestazione, in cui lo stesso Bucci è stato bravo – occorre riconoscerglielo – a cercare di rintuzzare tutte le critiche preventive sulla iniziativa piovute addosso lui è alla sua giunta per tutto agosto, soprattutto in relazione all'esborso finanziario delle amministrazioni e di istituti che dipendono sempre e comunque dai contribuenti. "Genova Jeans  – è partito lancia in resta Bucci all'attacco di tutti gli scettici e gli agnostici – è una grande occasione per riscoprire l'identità della città, per la visibilità di Genova, perché da un messaggio che unisce, per il tema dell'ecosostenibilità e il recupero del centro storico". Insomma quattro grandi temi in una sola breve frase. L'identità di Genova e la sua visibilita', ecosostenibilità e recupero del centro storico. Poi il marchio infamante per l'opposizione: "Le polemiche sono strumentali, da campagna elettorale". Con sottotesto, appena appena un passo più in la': le accuse di voler boicottare la manifestazione – e nel caso l'autogol di Sansa che invitava a non indossare i jeans nei cinque giorni della manifestazione per protesta è stato il cacio sui maccheroni per la maggioranza – a ribadire l'amore odio degli avversari nei confronti del suo slogan principe #GenovaMeravigliosa. Qualcuno, ha comunque osato dire che fra i temi fondamentali, il quinto da affrontare poteva essere quello del lavoro precario. Eppero' anche in quel caso, e comunque sotto sotto, almeno una risposta nei fatti c'è stata: l'appello ai giovani a fare volontariato per l propria città. Cioè a lavorare ma del tutto gratuitamente.
 Haste makes waste ( la gatta frettolosa fa i gattini ciechi o la fretta è cattiva consigliera)
E comunque  al buon Bucci almeno un merito occorre riconoscerglielo.
Per carità non è arrivato addirittura a chiedere scusa per un'occasione mancata. Quella  purtroppo è una dote che ancora gli manca e continua a perseverare pensando di estrarre dal cappello magico numeri che gli possano dare una qualche ragione. Eppero' facendo una sorta di catenaccio ha iniziato a parlare di "numero zero" per la manifestazione di quest'anno. A dimostrazione che ha già capito che non tutto è andato per il meglio e che ci sarà in futuro, sempre che si voglia mantenere la manifestazione, molto da migliorare. Come penso abbia compreso che in futuro, probabilmente, sarà meglio affidarsi a organizzatori e comunicatori più esperti. E soprattutto che non tutto si può improvvisare. Perché poi, magari, lo scivolo finisce per non scivolare, come in passato hanno avuto occasione di rendersi conto personalmente Lui e il suo sodale Giovanni Toti. E dico di più. In omaggio alla sua intelligenza: che sarebbe anche opportuno che bravo, come pensa di essere, imparasse anche l'arte di chiedere scusa ogni tanto. Perche' farlo una volta ogni tanto – sempre a mio modestissimo parere – finisce per dare all'esterno un'impressione di forza e non di debolezza. Purché non diventi un'abitudine, perché allora significherebbe ammettere pubblicamente la propria incapacità.
Comunque nel caso specifico, visto che spesso fa vanto di essere un manager e non un politico, avrei supposto che sarebbe stato in grado di valutare sul nascere tutti gli errori/orrori di una manifestazione che, come dice lui, potrà avere un ottimo appeal, ma rischia di essere irrimediabilmente danneggiata e compromessa sin dalla prima edizione.
E comunque l'atteggiamento di continuare a barcamenarsi e di cercare improbabili letture e vie di uscita – ancora a mio modestissimo parere – è tipico del politico e non del manager. Del politico che cerca sempre di far quadrare i numeri con le narrazioni. E lui tutto vuole essere, sindaco o commissario, tranne che un politico.
No pain no gain (senza sofferenza non c'è ricompensa)
Che poi, come ho detto l'idea, nemmeno troppo originale, visto che aveva avuto illustri precursori come Bruno Valenziano già 22 anni fa e poi, in epoca più recente, nel 2007 con un'unica manifestazione organizzata dall'amministrazione di Marta Vincenzi, non era affatto male. Solo che la prima traduzione è stata veramente sconcertante. E tanto per eventi che per comunicazione
Labilissimo il filo conduttore, legato al tessuto jeans. E artefatte alcune letture, esclusivamente per far modo ai due grossi marchi di mettersi in mostra e di fare immagine. Naturalmente occupando siti del Comune, dal mercato dello Statuto al sottoportico di palazzo Ducale, senza dover scucire il becco di un quattrino.
Posticcia e pasticciata l'idea di fare dei negozi chiusi da anni di via Pre' dei temporary store, con un criterio di concessione almeno dubbio.
Senza senso la decisione di non fare riferimento a tutto il vasto tessuto commerciale locale e già esistente dei negozianti di abbigliamento e di jeans. Anche se mi si racconterà che nel comitato promotore, in fondo, qualche commerciante era ben rappresentato.
Vero, ma magari poi ha finito per prevalere il maniman di sfuggire la concorrenza limitando il passaparola agli amici degli amici. Risultato: via Pre' con qualche vetrina a tema francamente molto lontana dall'opera d'arte, ha potuto avere un qualche riconoscimento artistico solo grazie allo spettacolo di luci. Francamente troppo poco e una sera ogni tanto.
Get your act together (lavorare con maggior concretezza)
E comunque gli organizzatori hanno potuto godere veramente di siti di grande pregio per realizzare alcune esposizioni, e del museo del Risorgimento e del Museo Diocesano che da soli valevano il costo del biglietto. Stessa cosa per la biblioteca universitaria di via Balbi, immobile di grande fascino nei locali dell'ex Hotel Colombia. Bellissimo il salone, non di grande rilievo la mostra "Il jeans dalle origini al mito", fatta eccezione per un pannello scorrevole molto bello in cui si riflettevano le immagini dei figurini disegnati da Luzzati in abiti da lavoro.
Labile l'artificio del ritratto di Garibaldi di Ian Berry, artista inglese che crea opere d'arte con il tessuto di jeans, dipinto esclusivamente utilizzando tutte le sfumature di blu necessarie. L'opera risulta comunque troppo compressa fra camicie rosse e fucili. E,oltre al ritratto di Garibaldi, il motivo francamente risibile per la visita al museo è che i mille, a quanto pare, oltre alla camicia rossa indossassero pantaloni in tela di jeans.
Francamente belli i teli della passione con visita alle tele del museo diocesano e al chiostro dei canonici. E in questo caso l'aggancio storico risulta abbastanza solido visto che le opere avrebbero potuto essere in una casa qualsiasi di un collezionista e il ministero dei beni culturali ha rivendicato un diritto di prelazione per destinarli poi a Genova. Le tele blu dipinte a monocromo si collocano in un punto difficilmente precisabile tra devozione popolare e arte colta: provenienti dall'Abbazia benedettina di San Nicolò del Boschetto in Val Polcevera, sono realizzati in fibra di lino tinta con indaco e possono essere considerati a pieno titolo illustri antenati delle tele di Genova o jeans.
Rivedibile l'esposizione al mercato dello Statuto con lezioni da parte di Candiani di ecosostenibilità. Parola abusata in questo periodo green, che, per quanto riguarda lo smaltimento, ma anche la vestibilita', potrebbe riguardare molte case di moda e non solo quelle cinesi. Mancava a mio parere, in tema di banalità, la foto del bambino di colore che cuce il jeans per un tozzo di pane. Ma si sarebbe trattato di parlare di lavoro e quello non era tema, almeno prendendo spunto dalle dichiarazioni di Bucci. O forse sarebbe stata facilmente confondibile, quella foto, con la voce volontariato.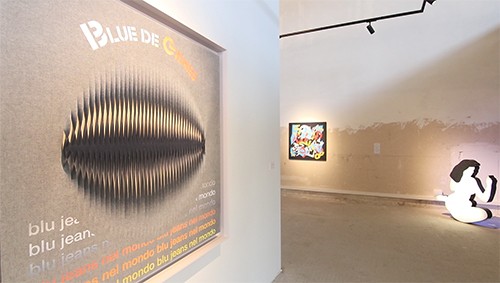 Better late than never ( Meglio tardi che mai)
Resta il quarto piano del Metelino, una delle poche spese utili in prospettiva. Rimesso a posto per collocarvi le trentasei opere donate da artisti a tema jeans. Il cui valore artistico e l'impatto visivo,francamente, non saprei definire. Il manufatto restaurato comunque potrà essere utilizzato in un futuro prossimo, se non per la campagna stampa del sindaco uscente in vista del prossimo appuntamento elettorale – ovviamente  è soltanto una battuta – come sito per mostre, performance ed esibizioni di giovani artisti.
Azzarderei umilmente perfino una proposta. Intitolare la zona a Luisella Carretta, artista genovese di caratura internazionale scomparsa proprio qualche giorno fa. E di inaugurarlo nuovamente, magari ospitando una sua retrospettiva.
E concluderei con un altro suggerimento. Non facendo parte del comitato promotore completamente "a gratis", che a quanto pare per questa mostra sia una parola molto di moda. Tanto poi si mette tutto in conto al contribuente. Comunque la proposta è quella di organizzare a Genova, come già esiste a Milano, una settimana della moda ma esclusivamente dedicata al jeans
Ps. Per titoli e proverbi ho usato un inglese tragicamente maccheronico. Affidandomi esclusivamente a Wikipedia –  non conoscendo la lingua – ma, a quanto pare – in linea con le traduzioni dei pannelli e dei comunicatori. Perciò chiedo scusa e nessuno me ne voglia
Paolo De Totero

Redazione del quotidiano digitale di libera informazione, cronaca e notizie in diretta